RNARS London (HMS "Belfast") Group
(Affiliated)
---
Easter Activity Week 2013
---
HMS "Belfast"
Monday, 01st Apr 2013 till Sunday, 07th Apr 2013 inclusive
The RNARS London (HMS "Belfast") Group held their usual yearly activity on board HMS Belfast. For this special occasion members travelled from many countries to be heard all across the bands worldwide with the call sign GB2RN. This is the amateur station which is situated in the bridge wireless office (BWO) on board the cruiser HMS Belfast.
---
2013 will see the 75th anniversary of the HMS "Belfast".
The launch took place at 17/03/1938.
To commemorate this event we will activate the special Call sign GB75HMSB from the Bridge Wireless Office
from 16th March 2013 until 12th April 2013 inclusive..
A special QSL card will be printed to confirm all contacts.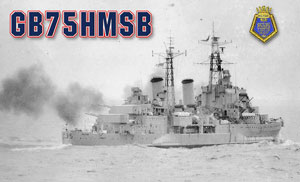 GB75HMSB qsl card
At the same time - believe it or not - the London Group celebrates its 40th jubilee since her foundation.

---

---
Some impression of the visit to HMS "Belfast" by MK Verden.
more 2 follow

---
A Easter visit, 31/03/2013, to the Barclay's by MK Verden, it's always nice among friends.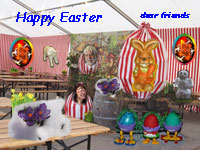 Happy Easter dear friends
more 2 follow

---
Some impression of EAW arrival and around the HMS "Belfast".
More 2 follow

---
London and HMS "Belfast": I shall return!
---
Responsible: Hans-Jürgen DK9OS, MF787 RN4636 LG609
---


last update: 30/06/2013 © dk9os