The RNARS London (HMS "Belfast") Group held their usual yearly activity on board HMS Belfast. For this special occasion members travelled from many countries to be heard all across the bands worldwide with the call sign GB2RN. This is the amateur station which is situated in the bridge wireless office (BWO) on board the cruiser HMS Belfast.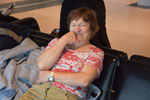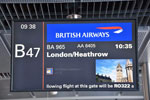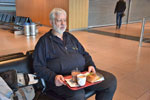 Flight from HAM to LHR with British Airways
---
Some impression to Easter on Easter Monday, 22/04/2019.
at Barclay's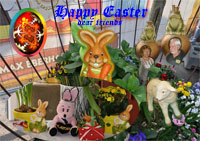 Happy Easter, dear friends
Maren - Easter - Angelika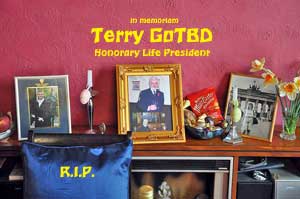 In memoriam GØTBD Terry
sk 2015

---
On Tuesday, 23/04/2019, we drove by bus and train to Havant, where Joe G3ZDF picked us up on schedule.
London Waterloo
we're almost there
Welcome at Havant
Joe G3ZDF and Maren DK9MOS.
Langstone
Langstone Quay
Chichester harbour
Hmm - delicious
We had a fish platter, Joe the usual sandwich for this time of day.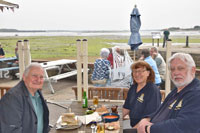 Lunch
Joe G3ZDF, Maren DK9MOS and Hans DK9OS

---
Tuesday, 23/04/2019, was earmarked to visiting the RNARS headquarter (HQ) at HMS Collingwood. Joe was kind enough to give us a ride.
New neighbours and check-in to RNHQ
Radio workplaces at HQ
New "toys" at HQ
SDR repeater and explanation
Technical Workshop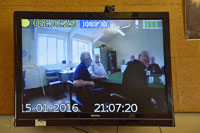 ---
On Tuesday, 23/04/2019, we had a visit to Doug in Gosport.
visit at Lou and Doug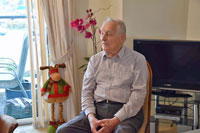 Doug G4BEQ
---
Joe took us back to Hawant again.
Havant station
Driving home
Unfortunately back to London again.

---
Wednesday, 24/04/2019, was earmarked to visit Carol and Bill in Liverpool.
Drive from Euston to Liverpool
Welcome to Liverpool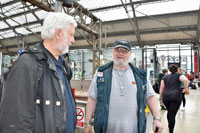 Bill G0ELZ welcomes us
Liverpool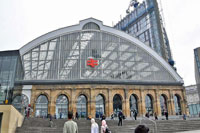 Liverpool Lime Street station
first impression
on the way to the bus station
'Cross' flat
Joshua Close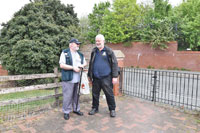 Bill and Hans
Bill and Carol's Flat
small snack
It was a nice, short visit. But we'll come again.
---
Back to London

---
We closed the day by a visit to a Lebanese restaurant in Ilford.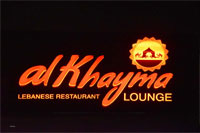 Dinner
delicious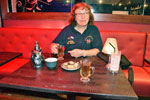 The boss kindly showed us his other 'treasures'.
Visit to the upper floor
Have a good night and till tomorrow.

---
On Thursday, 25/04/2019, we went west to Richmond.
approach
Richmond station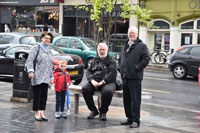 Natali and Jorgen with Alex arrived

---
Afterwards a visit to Kew Gardens at 25/04/2019.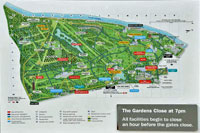 Kew Gardens
In the Garden

---
Drive with the Kew Gardens Express
Kew Express
Stop at the palace

---
Visit of the Kew Palace.
Kew Palace
inside the palace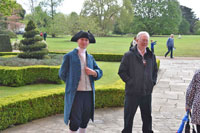 We leaved the palace

---
A visit to the Orangery followed for refreshment.
Orangery
And we had fun, too.
Futheron to the Hive

---
A visit to the Hive (beehive) was a must-be.
The Hive at Kew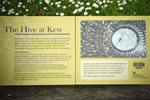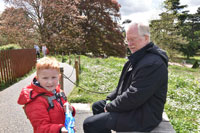 Alex and Jorgen
Kew's wild flower meadow
Tropic house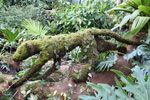 Tiger ?
Alpine house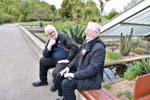 Jorgen is laughing

---
An infomative visit came to an end.
On the way to the Exit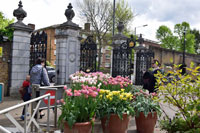 It was nice to be here
Now it's back to Richmond.

---
After the arrival in Richmond we did a short pub visit at the Thames.
Interesting display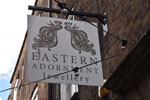 Pub visit at the Thames.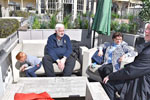 A refreshment at White Cross
riverside
Jorgen and his family went home and we went back to Ilford.
Thank you for a nice day.

---
We drove back to Ilford by Overground. There you can see more.
One last treat
Now we're going back to the hotel.

---
AGM took place aboard HMS "Belfast" on Friday, 26/04/2019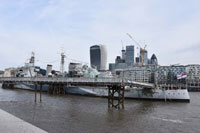 View to HMS Belfast
Start of AGM
assembled members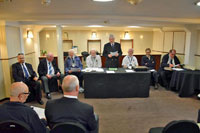 Committee of the London Group
David MØSLL chair RNARS, VIP and Marc G0TOC

---
Inspection by VIP aboard HMS "Belfast" on 26.04.2019
Inspection of London Group by VIP Lt (SCC) Jeff Cormack RMR
Inspection
VIP's among themselves
after inspection
view arround the HMS Belfast
Please follow us down to the social.

---
After the "stress" on 26/04/2019 we joined the Social in the wardroom of HMS "Belfast".
Social
Run on the cold buffet
all satisfied
Maren, Mick and daughter, Service

---
After the "big stress" on 26/04/2019 we joined the BWO of HMS "Belfast".
BWO in Action
Chris G4TZA, Bernie and ...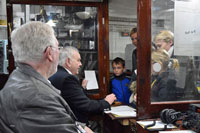 BWO in Aktion
Bernie gives instruction to Morse code
HMSB
AGM was finished successfully, we're going back to Ilford.

---
At the end of the day a visit to the Valentines Park on 26/04/2019 will follow.
Valentines Park
Kids World
The Valentines Diamond Jubilee Dry Garden
The Ha Ha
Cranbrook Park
Ilford
Back to Hotel.

---
Our Saturday excursion led us to Brixton on 27/04/2019.
The journey by bus trough London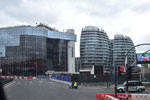 Inmarsat HQ
always at London

We're reaching Brixton.
Brixton City
sightseeing walk
visit to Market halls
On our Return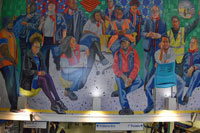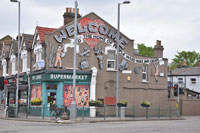 "Welcome Supermarket"
Back to Ilford

---
In the afternoon we took a small snack on 27/04/2019.
Mhhm - delicious!
A short brake at our Hotel.

---
Saturday evening, 27/04/2019 another visit to Ilford together with the Barcleys.
Cosy finale
visit to Ilford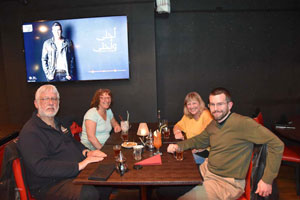 Hans, Maren, Angelika and Steven
delicious food
super finish
Thanks dear friends, have a good trip home.
Tomorrow we will fly back to Hamburg.

---
On Sunday, 28/04/2019 we left Heathrow T5 for flying home.
Waiting for Check-in
on air
Back again at Hamburg

---
Our happy time with friends passed far too quickly. Sincere thanks to our hosts who made it possible again for all of us to have an unforgettable time.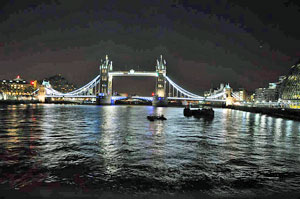 Tower Bridge at night
---
London and HMS "Belfast": I shall return!
---
Responsible: Hans-Jürgen DK9OS, MF787 RN4636 LG609
---


last update: 01/05/2019 © dk9os